What Clients Want
I was talking to a client the other day. We are doing a website redesign.
She asked me to ensure the new website was consistent in terms of the design.
Now, in the past, this would have fairly time consuming; particularly if the client had asked to change a colour.
Why?
Because nowadays we use page builders to speed up design. But at the same time, the options of each individual section allow us an almost endless source of customisation.
In simple terms, if I applied a blue colour to a background and the client wanted it to be aqua, I would have to change all sections sitewide.
Not fun!
Fortunately, Style Kits for Elementor came to the rescue.
This nifty plugin basically allows you to create design standards and apply them to any widget or section with a single click.
You only then need change the design standard in the global design settings and it applies it everywhere.
An example is the padding you put onto sections. You can choose from up to 5 padding sizes and you determine how much padding each one will have.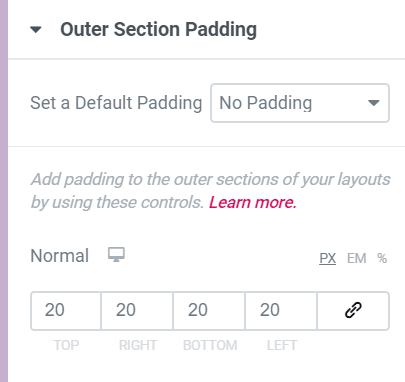 This certainly beats individual widget editing or messing with css.
Here are some reasons I love and recommend Elementor Style Kits by AnalogWP
You can assign a dark background section and adjust the colours anytime you want, everywhere at once – works great for heros and title banners
You can assign a colour, not only for the default button, but also for the different buttons sizes
You can create a default set of padding styles on sections – this is my favourite feature because I hate adjusting the margining and padding for each section
Has Elementor Caught On?
Around version 2.9 of Elementor, the developers introduced their own brand of "Theme Styles".
Rather than run away scared, AnalogWP decided to integrate the version they created with Elementor's recent addition.
You can now find these settings by clicking on the burger icon at the top left of Elementor, then clicking on Theme Styles.
If you've used Elementor with Elementor Style Kits before, drop us a comment and let us know how you like it.